Discover more from Bolaji Ayodeji's Weekly Digest
Kindly subscribe to my bi-weekly newsletter to receive resources around web engineering, computer science, developer relations, content creation, Jamstack, composable infrastructures, documentation, open-source, productivity, opportunities, etc.
[BAWD #61] GSoC 2022, Javascript Roadmap, and OSS Jobs
Hello there 👋🏾,
I trust you had a blissful week? Btw, here's a friendly reminder that a simple joke can destroy someone's confidence.
If you love the content I share, please forward this email, share it on social media or invite your friends to subscribe. I'll also appreciate your feedback or suggestion(s); thanks!
---
Featured Articles ✍️🏾
Product of the Week ✨
Tentacle allows you to combine your favorite blogs into one weekly newsletter with any new posts on those blogs.
---
Good Tidings 🔊
---
Dev Term of the day 💾
SQL: is a standard programming language used for storing, retrieving, and manipulating data in a database. Learn more here (text) or here (video).
---
Book Recommendations
---
Featured Tweets and Videos 😍
Here are some cool tweets and some of my favorite videos from YouTube this week. Btw, do let me know what you think about this section in the poll below: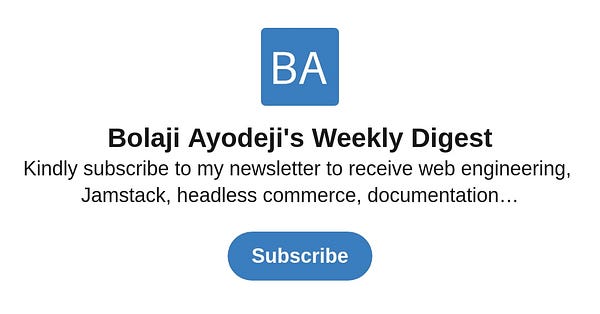 bawd.bolajiayodeji.com
Bolaji Ayodeji's Weekly Digest
Kindly subscribe to my newsletter to receive web engineering, Jamstack, headless commerce, documentation, educational, productivity, resources, opportunities, and other related content.
⬇️: 1. Algorithmic Thinking, Peak Finding
⬇️: The Future of E-commerce is Headless
⬇️: How To Master Data Structures & Algorithms (Study Strategies)
---
Quote of the day 💙
"Learning is not attained by chance, it must be sought for with ardor and attended to with diligence."–Abigail Adams
---
That's all for this letter. It will help if you forward this email to your friends. Also, if you've not subscribed yet, kindly subscribe below 😊. See you next week Sunday and stay safe!
---
Shout out to my current Patrons: Maya Shavin, Angie Jones, Sarah Drasner, Blessing Akpan, Samson Goddy, Obinna Odirionye, and Alabo Briggs.
---
Connect with me 👇🏾

LinkedIn | Blog | Twitter | GitHub | YouTube | Patreon